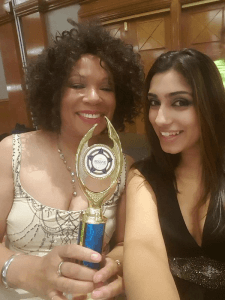 Congratulations to all award winners at the event on 24 October 2015 held at The Hilton Metropole, N.E.C Birmingham.
We are proud to announce our achievement of the Law Firm of the Year Award! Thank you to all who voted for us. It was most definitely an evening to remember with excellent food, entertainment and glorious raffle prizes. The night was hosted by Miss Donna Spence and Mr Cee; awards were presented by many celebrities including Ellen Thomas (EastEnders Actress), Denise Lewis (Olympic Gold Medallist) and many more.
The firm was represented on the night by Karen Bailey, Principal Solicitor and Angelina Aitan, Legal Secretary, who had a thoroughly enjoyable time.